Tijana Kargovska
The AirPods have gotten extremely popular among Apple and non-Apple users, especially due to the quality of sound they're offering.
However, a lot of users have reported some technical issues, such as AirPods not connecting to Mac automatically as per usual.
If you're a Mac or iPhone user, we will guide you through the process of fixing your AirPods - and we will give you several alternatives.
Why are my AirPods not connecting?
There are a lot of options as to why you might be experiencing issues with your AirPods, some of them being physical issues, firmware issues or connection problems. However, you can't know for sure which one might be causing the issue, so we will give you a few possible fixes to your problem. If none of these seem to be fixing your issue, make sure to bring your AirPods to the nearest Apple Store or an Apple-authorized service provider.
You might be also curious to learn how to connect AirPods to your Dell laptop.
What should I do to fix my AirPods?
1. Reset your AirPods
The good old "turn it off and on again" might actually work. Some users have reported being able to use them again after resetting them. To do this, find your AirPods in your Bluetooth connections list of devices, click on the 'x' next to them, and remove them. Try to connect your AirPods once again.
2. Cleaning your AirPods
Sometimes the issue is the simplest problem you'd never think of - try to clean your AirPods, since the dirt that has been accumulated in them might be causing the problem. To learn how to properly clean AirPods without damaging them, watch this short YouTube tutorial: How To Clean AirPods Properly.
3. Switch the AirPods to a different device
Try connecting your AirPods to a different device to check if the issue might be because of the MacBook. Try connecting them to your iPhone, Android or Windows laptop, just to make sure that everything is working properly on your headphones.
4. Disconnect other apps that are connected via Bluetooth
Disconnect apps on your Mac that are connected via Bluetooth, sometimes the laptop might be in overdrive due to being connected to too many apps or Bluetooth devices.
Bonus read: How to connect replacement AirPod
AirPods not connecting to MacBook
In case none of the above-mentioned solutions works for you, we will get into more details about reconnecting your AirPods to your MacBook.
Firstly, make sure the software on your Mac is up to date since some AirPods require a minimum software update - to be more specific: Generation 1 AirPods will run with macOS Sierra or later, and Generation 2 AirPods will run with macOS Mojave. To check if your software is up to date, open 'System Preferences' and go to 'Software Update'. If there are any updates available, you'll need to finish updating your Mac so your AirPods can work properly.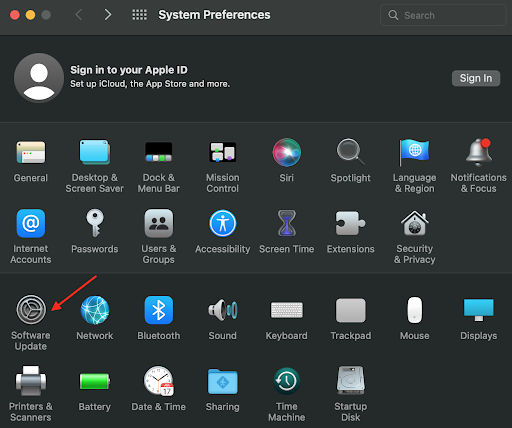 Output device - if you managed to connect your AirPods, but you're still hearing everything from your Mac speakers, open the Bluetooth section, and make sure the output device is set to your AirPods, not your MacBook.
The charging case - make sure that you select the AirPods while they're in the case. Open the lid of the charging case, and select your AirPods then by clicking 'Connect'.
While connecting, make sure you don't close the lid. It needs to stay open so you can finish setting them up while in pairing mode.
Make sure your battery is okay - either the battery of your AirPods or the charging case might have run out of battery. Try charging them for a while to make sure everything is ok.
Same Apple ID account - if you've used your AirPods on your phone previously, and now you're trying to connect them to your Mac, make sure both devices are connected to the same Apple ID. This will connect your AirPods automatically (regardless if you're using AirPods Pro, AirPods Generation 1 or 2 or AirPodsMax).
Restart your MacBook - try restarting your device, doesn't matter if it's the MacBook, iPhone or iPad, restarting can sometimes fix the issue, especially if the device is in overdrive.
Reset your AirPods - to reset your AirPods, press and hold the setup button on the back of the charging case. Release the setup button after you notice amber flashed, and then it flashed white.
Check out also how to fix if your AirPods won't charge. Also, you want to share the music with a friend on your AirPods, read how to connect two sets of AirPods to one device and share audio.