Tanja
Many Facebook users don't know about this option, but Facebook automatically saves every post we publish on our profiles. This refers to the photos, videos and every kind of post we share and they are all stored in our account data.
So, if you want to review something that you posted a while ago, keep reading this blog post because here we'll explain the steps you need to take in order to find old posts in your profile.
How to see old posts on Facebook without scrolling down
There are several methods that you can try to find old posts within your Facebook profile.
Through the three dots (right side of your screen)
Go to your regular web browser and navigate to Facebook.com.
Log in to your Facebook profile using your login credentials.
Go to your profile's page.
Click/tap on the three dots that is the option - More.
From the drop-down menu, choose and click on Search Profile.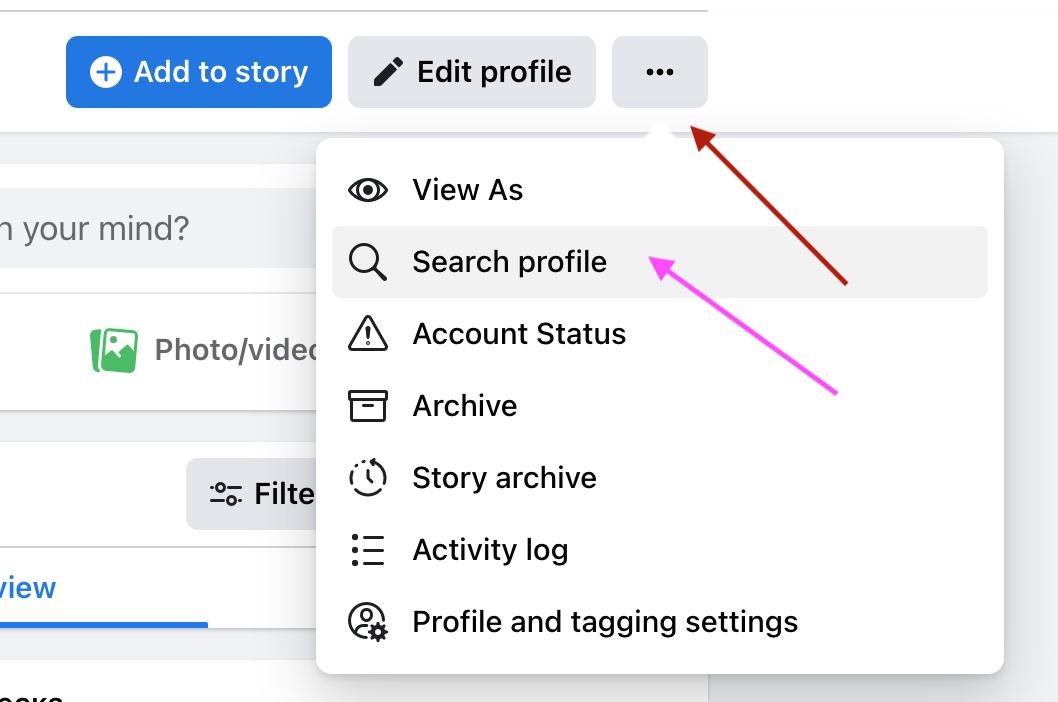 In the pop-up window, type in the keyword of an old post/s that you are looking for and hit Enter on your keyboard.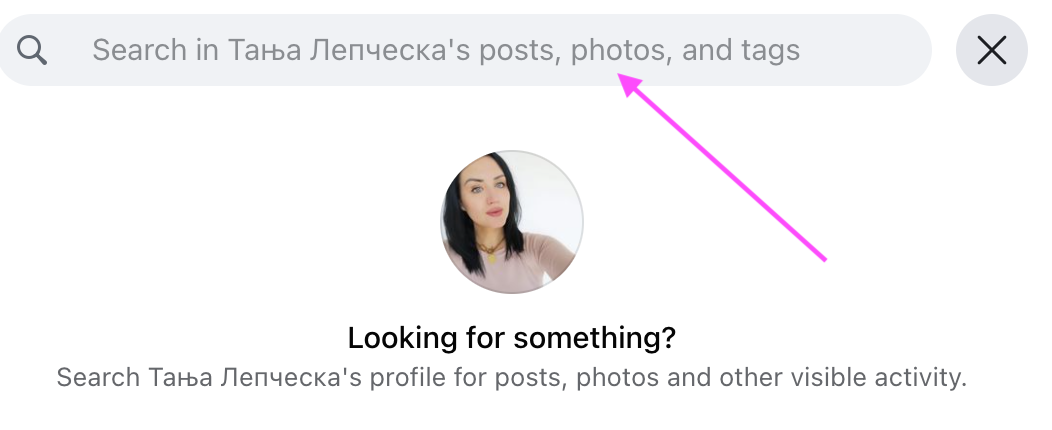 Note: In this search tab, you can look for old Facebook posts, photos, tags, etc. In addition, you can filter the old posts by recent ones, by tagged location and by the date when they were posted.
Through the Activity log option
The Activity log will also give you full access to a detailed list of all the things that you posted on your Facebook profile - videos you have searched, watched, search history of all groups that you looked for, etc.
Go to your Facebook profile page.
Click/tap on the three dots - More.
From the drop-down menu, choose the option Activity Log.
Then, choose Your Posts (left panel).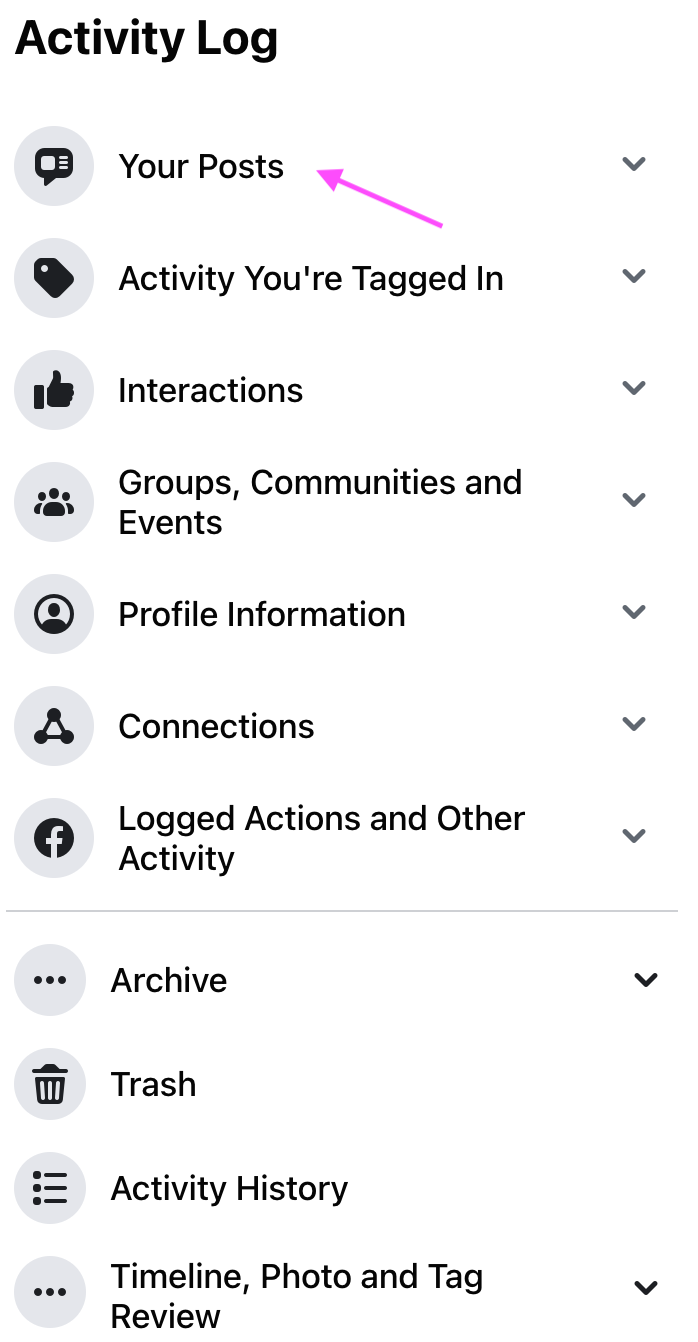 Through the option Filters
This is yet another way for you to find old posts on your Facebook profile.
Go to your Facebook profile page.
Click on the option Filters, as shown in the photo.

From the pop-up window, you are given the chance to choose between old posts by year, posts posted by anyone, or you or others. You can adjust the features based on what you prefer.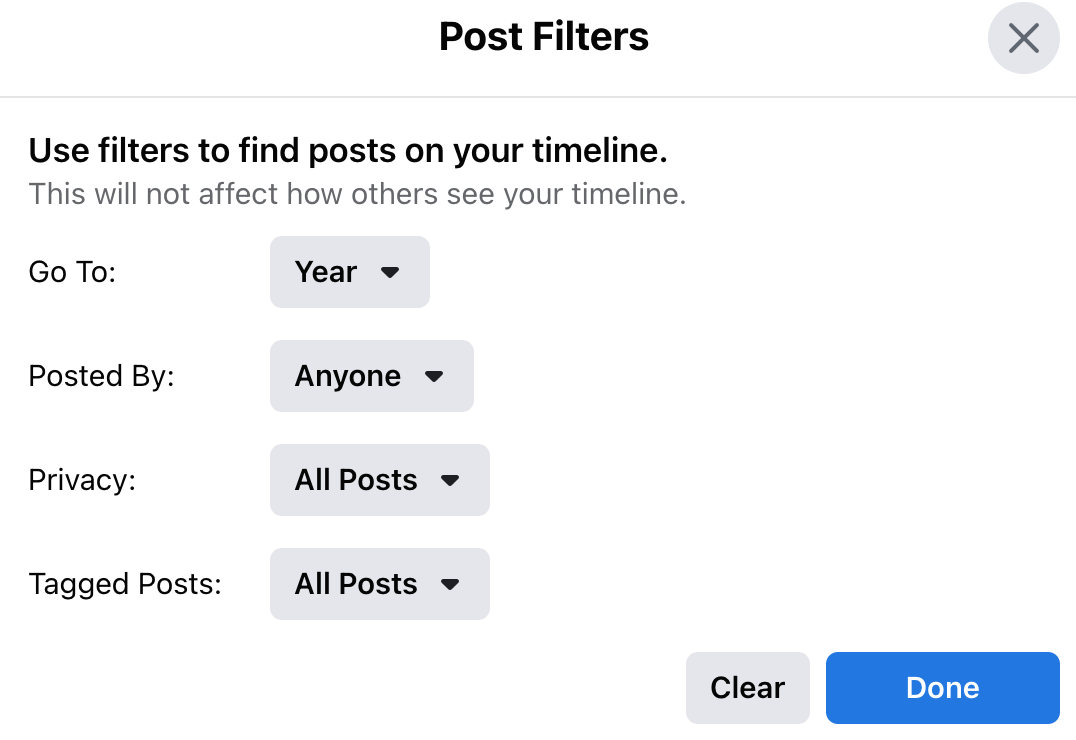 Lastly, click on Done.
Note: In case you click on the Clear button, you will delete old posts on Facebook.
Bonus: How to Find Older Posts on Instagram [4 Easy Ways]
Can I find someone else's old Facebook posts?
You can do this and these are the steps to do so:
Navigate to the official Facebook website and log in to your account.
In the search bar, type in the keywords of the old posts that you want to find.
Just hit Enter and you will see a list of all matching results - posts, photos, videos, etc.
Choose Posts (left menu) to see all the old posts that are related to what you searched.
If interested, you might also want to know about how to find your Facebook messenger chat history, so why not check out our blog post on that as well.