Tijana
Android users have had customizable home screens for a couple of years now, but for iOS users, this is the newest and groundbreaking change. iOS didn't have any adjustable widgets, themes or icons up until now, but when users got iOS 15, Apple surprised everyone with the biggest change in the system since iOS 10.
However, adjusting your home screen if you're an iPhone user, is not so easy, since these features are not set as a theme to be installed, but rather manually setting up every piece of your entire home screen.
Now, for those that want to set their screen up in complete detail, we're sure you'll love this article.
How do I rearrange my home screen?
On your iPhone, tap and hold on an empty space in one of your Home screen pages, and wait until the apps start shaking. In the lower section of the home screen, tap on the dots, just above the dock.
You will be shown a screen of all your pages on the home screen. If you hold and drag any of the pages, you will be able to rearrange them in whatever order you need them to be. Once you're finished, click on 'Done' in the upper right corner.
Another amazing update in the rearranging section that came with iOS 15, is that you can hide pages. If you have a page where you placed apps that you don't use that often, you can opt to hide them, until you need to open them again.
You'll need to go through the same process, hold on a blank space on the home screen until the apps start shaking. Click the dots in the lower part of the screen, and click on the check mark below the page you want to hide. Once you're done, click on 'Done'.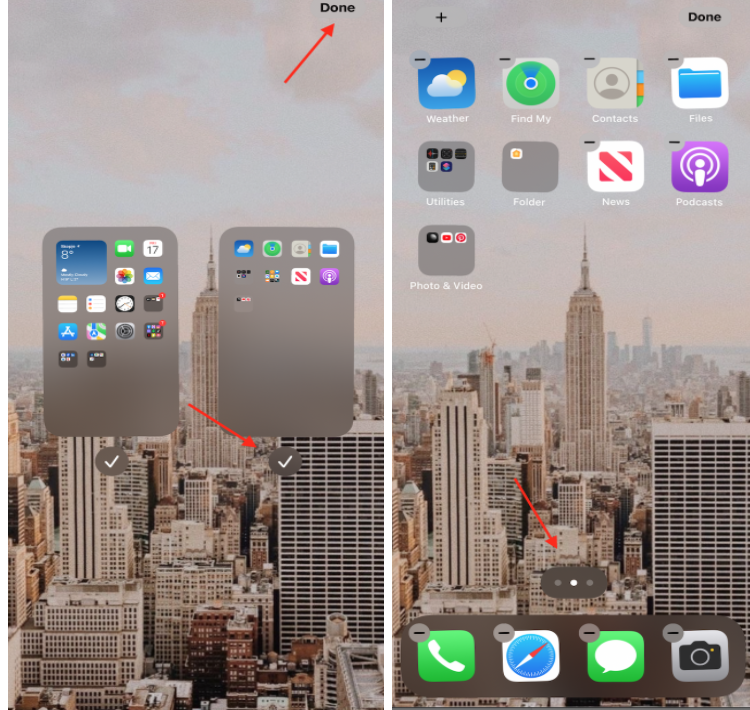 How do I delete pages from my home screen in iOS 15?
To delete a page from your home screen, you'll need to follow a few similar steps as the ones we went through. Tap and hold on an empty space of the screen, wait until the apps start shaking, and tap on the dots icon in the lower part of the screen.
As you can see in the screenshot, you are given an option to select and deselect a page. Uncheck the one you wish to remove, and in the upper left section of the app, click on the 'Minus' icon.
iOS 15 has a page in your home screen where most of the newly implemented widgets are set. You can edit them, simply scroll down to the bottom of the page, and click on the 'Edit' button. If you don't want to keep all those widgets on the page, just remove them, and click on 'Done' once you've finished editing your widget setup.
If you want to edit widgets that aren't showing up on the page, click on 'Edit' once again, located at the bottom of the page. Next, look for the '+' icon in the upper part of the screen, and click on it. You will be given a list of other available widgets you can use. Also note that some of them are scrollable, you can scroll up and down through them to choose the most suitable one.
If you want to have multiple widgets, you can stack widgets one on top of the other, which will make them scrollable - but now you will have a selection of the widgets you'll need on a daily basis.
Editing the icons in iOS 15
Old news for Android users, but an amazing update for all iOS users. You can now customize each individual app you have installed on your phone. However, the process of making changes to apps and their icons is a process that is a bit more complicated. You will need to have stored an icon for each app you plan on changing, creating shortcuts, and finding color-appropriate wallpapers.
However, since the process of editing each app is really long and requires a lot of details, watch this YouTube tutorial, which will make it really easier for you to finish the whole process with no setbacks.
Learn also how to take and edit a screenshot on Mac OS X.
If you want to learn more helpful tips for iPhone, read how to listen to music on FaceTime from your iPhone or iPad.