Tanja
Like Bitmojis, when the Cameo feature on Snapchat was launched, everyone went crazy about it, longing to use their real face and make GIF-like videos of their reactions and emotions.
With Cameos, users get to make hundreds of funny clips and play the part of a movie star - it is all up to their taste.
But what happens when they get bored of the Cameo selfies they already have? They change them, and we'll show you how you can do everything below.
Quick Note: To use the Cameo feature on Snapchat, users need to download the most recent version of the Snapchat app for either iOS or Android.
Bonus read: How to turn off typing notifications on Snapchat?
What is a Cameo selfie?
Cameos are a Snapchat feature released back in December 2019 as a selfie with a background. Basically, when you create a Cameo selfie, you are the cameo in a scene or with your face on an object.
How to change your cameo selfie on Snapchat (iOS or Android)
Launch the Snapchat app on your smartphone.
Tap on the Chat option and navigate to one of your friend's chats.
Tap on the emoji icon and choose the option Cameos.
Tap on More and tap on the Cameo icon (bottom of your screen).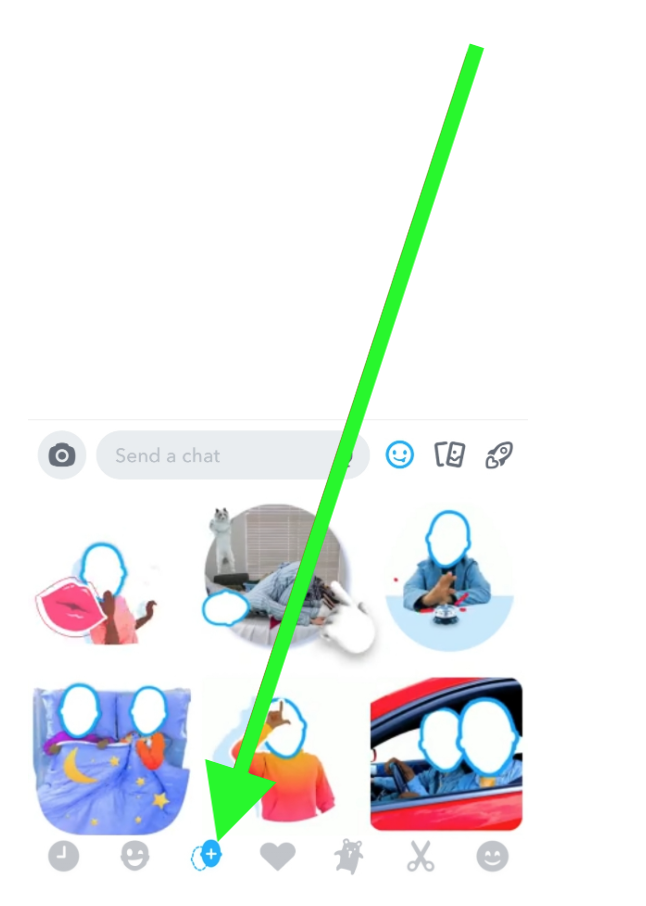 Tap and hold the cameo you want to use.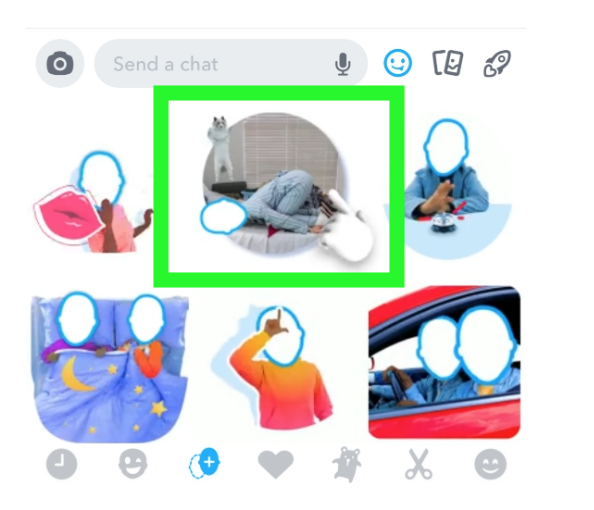 Choose the option "New Selfie" to take a new photo. This way you can send a new Cameo in just a few moments.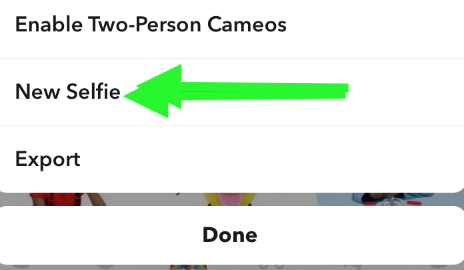 Take the photo and tap on Create my Cameo Selfie.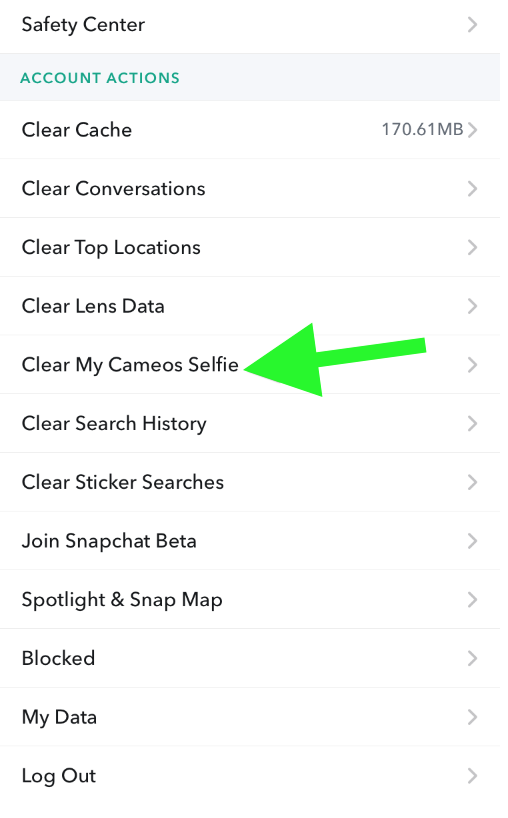 Now you can use your newly created cameo selfie on Snapchat.
Alternatively, you can also go to your Snapchat Settings and tap on the Cameo option > tap on Change My Cameos Selfie and create your new Cameo from scratch.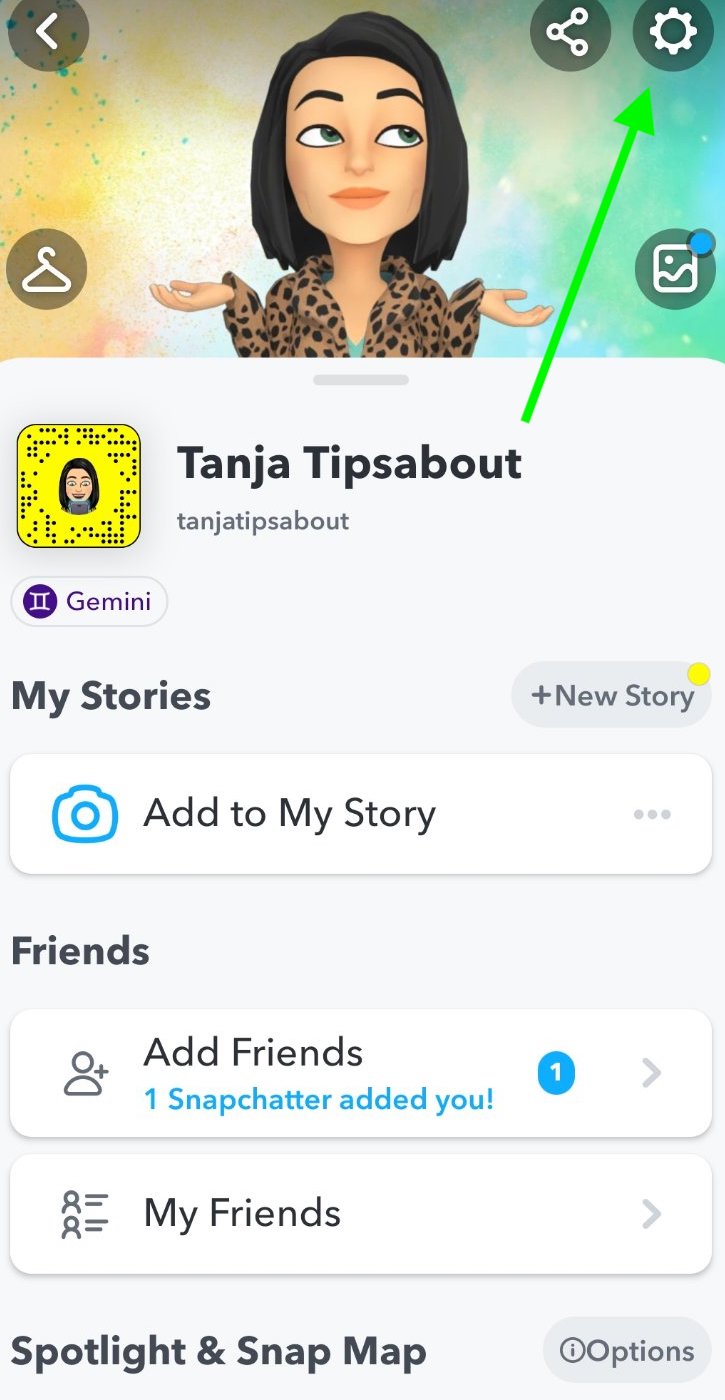 How to change Cameo friend on Snapchat
Snapchat allows users to feature their friends in two-person Cameos, choose among various backgrounds, add their friend's selfies, and be creative with them.
Also, users can choose with whom they want to share their Cameos. The thing is; first, they have to enable you to use theirs, and this is how it is done:
Open Snapchat and go to My profile.
Tap on Settings, find the "Who Can" option, and tap on "Use My Cameos Selfie".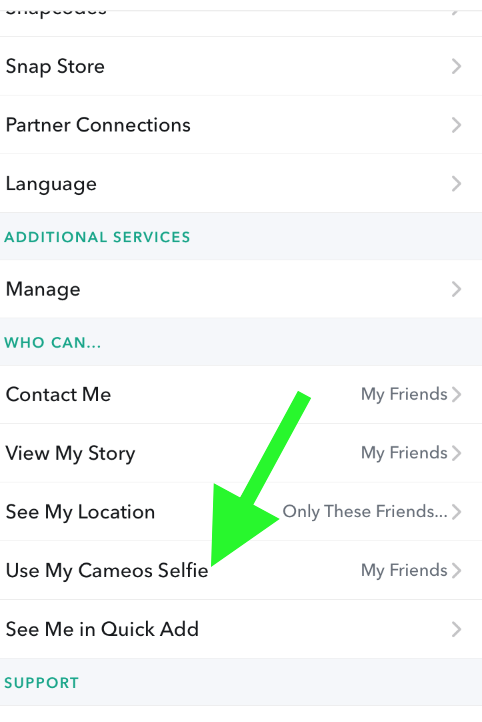 You will be given to select one of the options "Everyone", "My Friends" or "Only Me" to access your Cameos.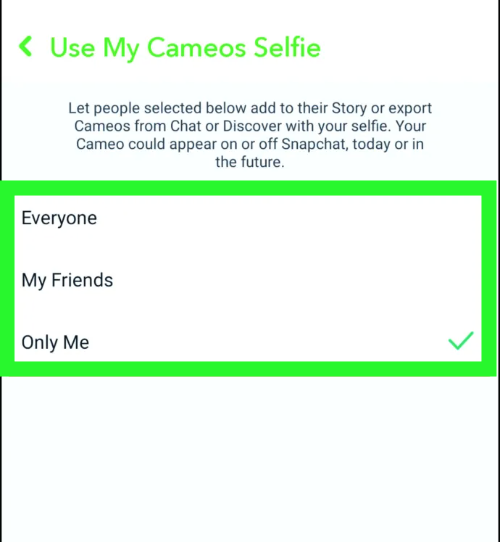 Can I change the text on my Snapchat Cameos?
Yes, you can do it, and it is always good to know that you can choose between the templates to incorporate text that can move around your Cameo to fit its theme.
For those who are interested in including words or texts in their Cameos, here is how it works:
Open the Snapchat and navigate to a chat where you want to send your Cameo.
Type in the text you want to send in the Text tab.
On the right side of the Text tab is an emoji icon - tap on that.
From the new menu that opens, the second option is the Cameo, and every Cameo will have the text you typed so you can choose the one you want to send.
Tap on that and tap on Send so that your friend gets your Cameo with that text.
Another bonus read: How to delete Snapchat Story on iPhone and Android?
Can I delete my Snapchat Cameo?
Users who use their Cameo selfies too often feel like it's time to delete them. So, if you want to remove it, here is a way how:
Open Snapchat and tap on your profile icon to access the Profile page.
Find the option "Account Actions" and tap on "Clear my Cameos Selfie".
Tap on Clear.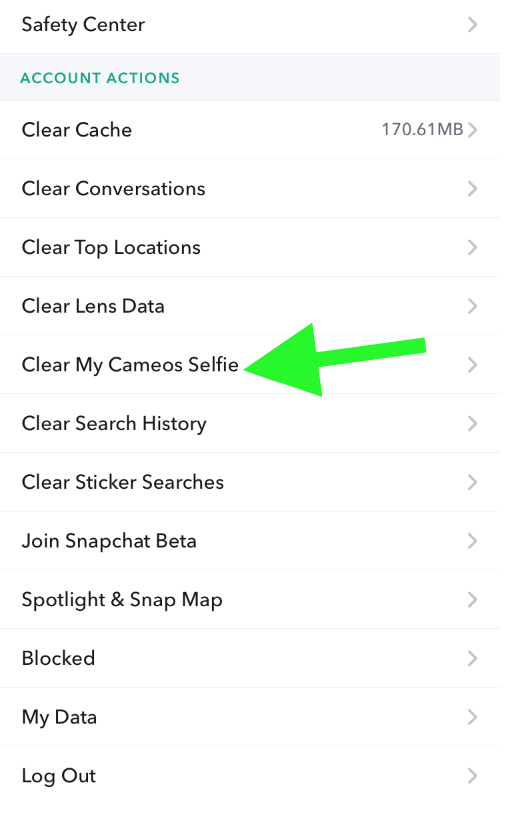 And it is that simple. Now you can take a new Cameo selfie from scratch and start sending it.
You might also be interested in learning how to delete group story on Snapchat 2022, or how to get rid of "Quick Add" on Snapchat - we have guides on those too.
Or, if your bitmojis are not working on Snapchat, you can always check out our blog to fix that issue.