Do you want to stop a buyer from bidding on the items that you are selling on eBay?
If yes, we completely get your point and you are allowed to block a buyer on this platform if you feel that you are being harassed or just sick of with a buyer's behaviour.
What is the "block buyer" option on eBay?
Basically, it is a feature on eBay that is there for those who are victims of the negative feedback on this selling platform or for those having issues with someone bothering them for some time.
It enables sellers to block a buyer on their eBay account at any time and for any reason they might have. This could mean that perhaps the buyer did not pay for an item or has broken an agreement.
In case you didn't know, these are some of the legitimate reasons to block a buyer on eBay:
Non-payment of purchases
Fraudulent activity
Backing out of bids/ agreed upon purchases
Abusive behavior or language
For competitors not to purchase your products
Note: Once you block someone from buying something from you on eBay, from then on, they won't be able to purchase or bid on anything you put on your eBay listings.
Therefore, before you block someone, make sure you carefully read all the instructions.
How to block a buyer on eBay
So, once you are sure that you want to block someone on your eBay selling platform, these are the steps you should take.
First, navigate to the official eBay website and log into your eBay account.
Then, click on the 'Help & Contact' that is at the top of the page and in the search bar click on the 'Block buyers' button.
You will be redirected to the Block Buyers page.
Once you are there, enter the buyer's username and click on 'Submit'.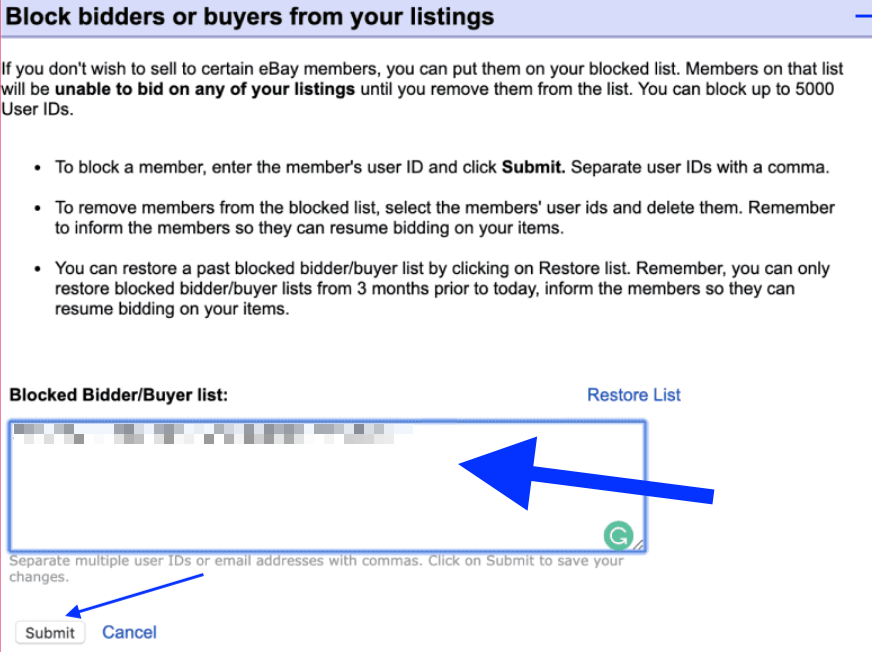 Important Note: In case you want to add more members on the blocking list, add a comma and then enter the username of the buyer you want to block. Ebay allows you to add up to 5000 User IDs to the blacklist.
How to block an ebay buyer by specific requirements
Another good thing to know, is that you can also set buyer requirements for your eBay store, in order to decrease the risk of buyers being dissatisfied. On another note, this refers to you checking whether they have been an eBay member for at least 6 months, whether they have a positive or negative feedback counter or whether they've bought a minimum of 10 items within the last year.
So, you can block bidders on the Buyer Requirements page and this refers to bidders who have:
A non-paid purchase on their account in the past.
A negative/low feedback score.
A history of breaching other eBay policies.
A delivery address in an area you don't ship your goods to.
In addition, from the Buyer Requirements page, you can block buyers that are winning now or have bought 1-100 of your items in the last ten days and also those who don't have a PayPal account.
Can I block ebay buyers by location?
Absolutely yes! And usually, this is the case when you want to avoid international shipping. For instance, if you are based in the United States, you might want to prevent orders coming from particular states.
To do this, first you need to go to your eBay account shipping preferences and once you are there scroll down and click on 'Edit' under the section to allow you to exclude shipping locations. After you are done with the changes, click on 'Save'.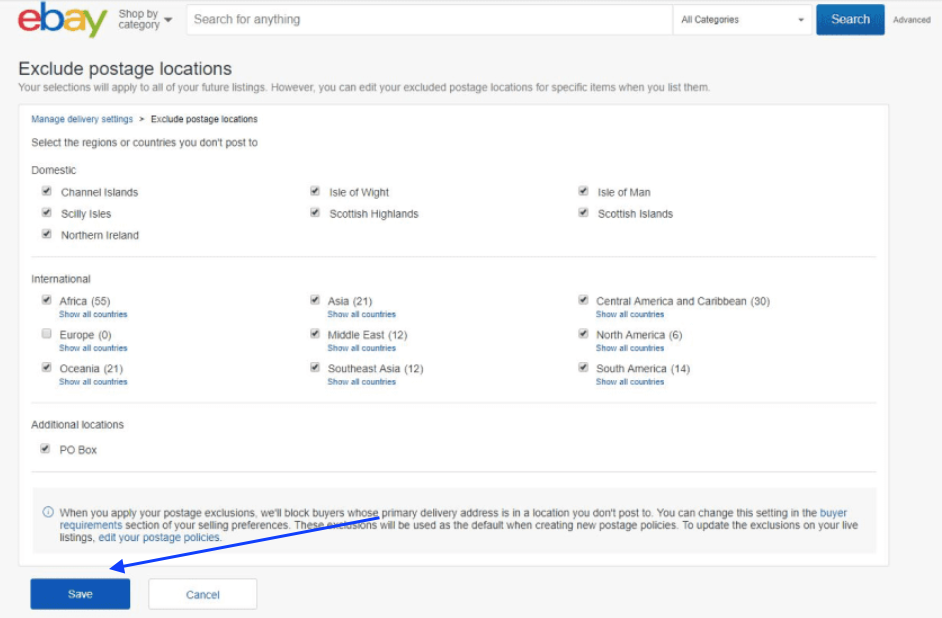 Can I restore buyers from the blocking list if I change my mind?
Sure you can. You are also given the option to remove/unblock people from the blocked list at any time. This means that by removing them from there, you will make them active again for bidding on your items and therefore buying them.
Here are the two steps you need to follow if you want to unblock someone on eBay:
First, go to the Buyer blocked list.
Click 'Unblock' that is right next to the username of the buyer and you are done.
Apart from this, in case you want to try another platform similar to eBay, you can always try the Wish ecommerce platform. However, if you make a mistake when ordering something and you want to cancel your Wish order, you might as well do that, so check out our blog post to learn how you can do that.