Ivana
Hosting on Airbnb is a great way to earn some extra cash, while at the same time providing a unique local experience to travelers who want to explore your city and country.
However, when people are looking at your Airbnb listing and considering whether they will book with you, there are multiple factors that play a role in their decision. Apart from guest reviews, having the label 'Superhost' on your Airbnb profile definitely helps future guests pick your Airbnb.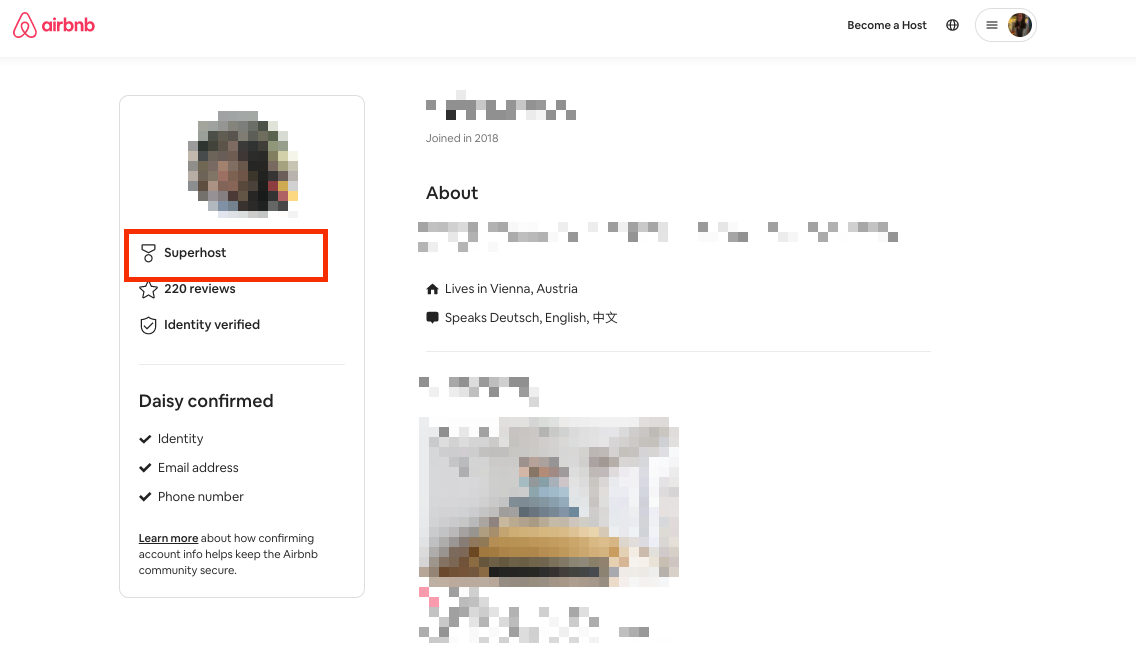 But what exactly is a Superhost and how do you become one? Having a Superhost status is a great way to impress your guests, and increase your bookings, while at the same time growing your travel funds.
If you are hosting an Airbnb and want to boost your book rate, in this post we'll explore the steps you can take and the requirements you need to meet in order to get the desired Superhost on your host page.
If you are an Airbnb guest, read our blog on how to use Airbnb, including how to set up your account, how to book a property, what to do after your stay, and more.
What is an Airbnb Superhost?
A Superhost provides exceptional guest experiences and makes holidays smoother for Airbnb users.
Apart from increasing your bookings rate, your Superhost status brings you many other perks such as a $100 travel credit, higher host referral payouts, and increased visibility of your property on the Airbnb homepage, newsletters, and emails.
Moreover, Airbnb allows users to filter their Airbnb searches to Superhosts only. Getting featured in this feature is another great benefit of being an Airbnb Superhost.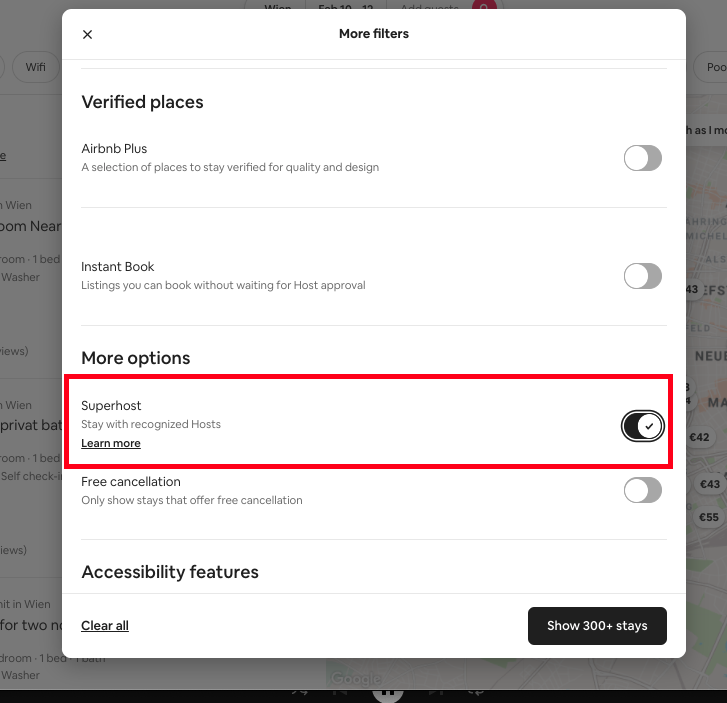 There are several criteria that you have to fulfill in order to earn the Superhost label.
Requirements for becoming a Superhost
To become an Airbnb Superhost, you need to meet several criteria:
Host at least 10 guests - This is the easiest requirement. You need to have had at least 10 booked guest trips. If you are renting your property short-term this is easy to achieve. But some hosts rent out their Airbnbs for longer stays. In this case, you need to successfully complete 3 long-term reservations for at least 100 nights to be eligible for Superhost.
Maintain a 90% or higher response rate However, replying to potential guest messages is time-consuming. One tip about how to maintain good guest communication is to have the Airbnb app installed on your phone. Alternatively, you can use services like Host Tools Hospitable
Maintain a 1% or lower cancellation rate Airbnb's extenuating circumstances This means you can only cancel 1 in 100 bookings. This affects the overall guest experience and the experience with Airbnb as a whole. To avoid canceling guest reservations, prevent double bookings on your listings. If you are only hosting on Airbnb, that would be easy. However, if you have your property listed on other websites such as Booking.com and Vrbo, you need to make sure your booking calendars are synced across all platforms
Maintain a 4.8 overall rating
Also, make sure that your guests express their satisfaction by leaving a review after their stay. Having great reviews on your page will increase travelers' trust in the listing information you provide and provide you with more booking opportunities.
If you fulfill the requirements to become a Superhost, a badge showing your status will be automatically added to your Airbnb profile and your listing pages for as long as you continue to qualify.
How to maintain your Superhost status
If you have achieved your Superhost status, congratulations! However, remember that your work is not over.
Airbnb reevaluates your Superhost status four times a year. In order to maintain your Superhost status, you need to keep up the great work. If you start to slack off and your guest experience decreases, you will be stripped of your hard-earned Superhost reward.
So apart from the above requirements, you need to always try to top off the experience you provide. As guest expectations are changing you need to adjust to them. For example, after COVID-19 guests have started expecting higher standards of cleanliness. Make sure you fulfill your guests' cleanliness requirements and strict cleaning and disinfection protocols.
Also, always try to add some nice touches to your rentals and service that elevate your guests' experience and encourage them to recommend you to their friends.
If you want to learn more tips and tricks about Airbnb, check out how to delete your Airbnb account.