Emilija
Discord is steadily growing in popularity as more and more people join the platform each day.
Gaming, manga, and anime-related communities are largely built on the platform; therefore, Discord might not be everyone's cup of tea.
Those who have trouble getting their heads around Discord or can't find a server/community who shares their interests might find it appealing to delete their Discord account.
Luckily, Discord allows account deletion and also allows for users to restore their accounts if they change their minds.
Of course, Discord, like any other social media platform, has its own rules when it comes to restoring a deleted account, and we'll go over them in this post.
Can you restore a deleted Discord account?
Yes, you can restore your deleted Discord account, but only within the time period of 14 days.
Your Discord account will be in a "pending deletion" state for 14 days.
After those 2 weeks, users' accounts get permanently deleted, and they cannot be restored.
How to restore deleted Discord account
First, login on to the desktop or browser app; you will see a dialog box stating that your account is scheduled for deletion.
Click on 'Restore Account' below the 'I am sure!' button.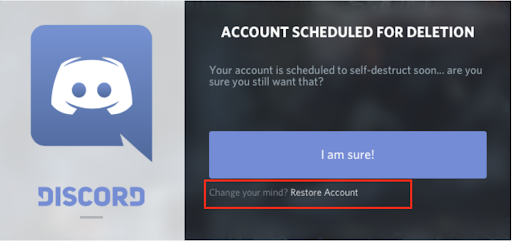 That's it!
Your account has been restored.
Users can restore their Discord accounts by logging in to their account within 14 days from the detention request.
Also read: Fix: 'You Do Not Have Permission to View Message History' on Discord
Will your Discord account get deleted if you're inactive for too long?
No, Discord does not delete accounts after a long period of inactivity.
Sever owners can, however, remove users from their servers if they have been inactive for a longer period of time and they don't have a role assigned.
Can you make a new Discord account with the same email after deletion?
Yes, you can make a new Discord account with the same email after deletion.
Keep in mind that in the first 30 days after your account has been deleted your user name will be replaced with "Deleted user" and your Discord pfp will be deleted.
Wrapping up
Discord is a popular messaging app with many interesting features.
However, many users are not finding it suitable for their needs when it comes to communicating with others and decide to delete their accounts.
If however, they change their minds and want to restore their Discord account, they can do that within the 14 days of their deletion request.