Tijana Kargovska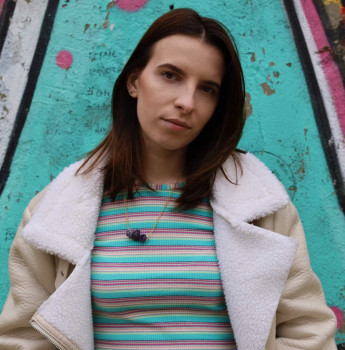 The iOS 15 rolled out a while ago, and it brought amazing updates, software improvements, and some major appearance changes.
However, a lot of user reports were placed about an issue when trying to install and download the latest iOS update - iOS 15.
Reportedly, users were prompted by a pop-up error message saying 'Unable to install update - An error occurred installing iOS 15 on your iPhone. Retry/Remind Me Later.'
When it comes to what you can do about this issue, we have several possible solutions to this problem.
In the article below, we'll list all possible actions you can take to resolve the 'Unable to install update. An error occurred installing iOS 15 on your iPhone. Retry/Remind Me Later' issue.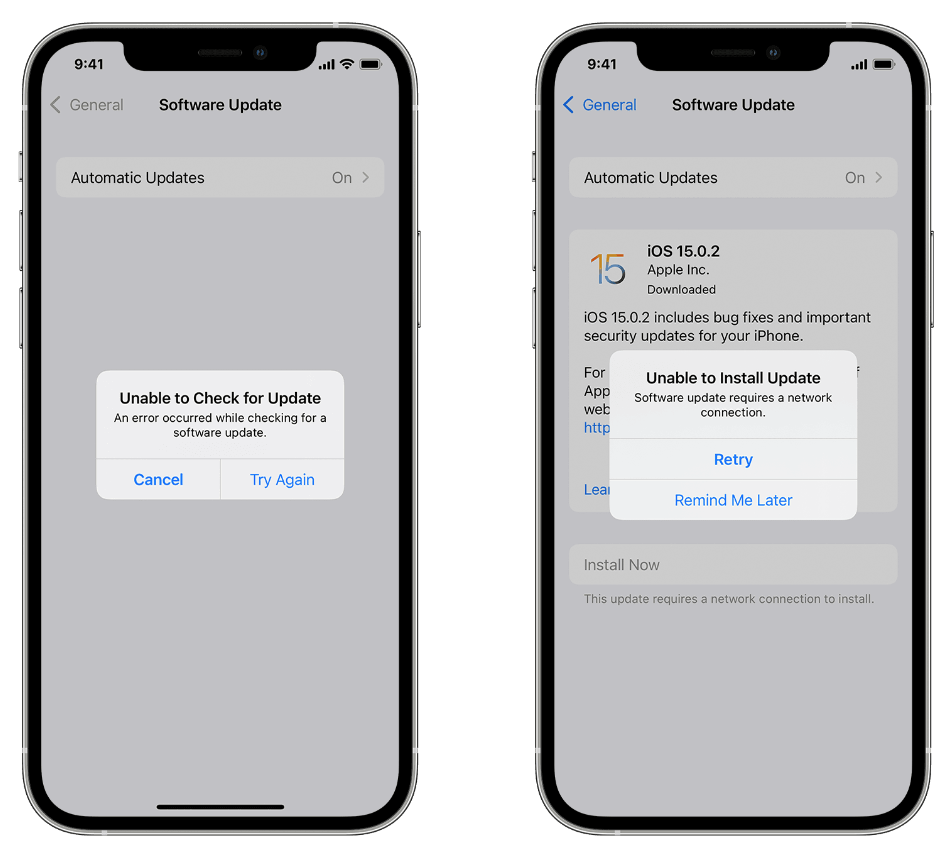 Check out: How to Fix: Why is my iPhone Flashlight Not Working.
How do I fix the iPhone not updating to iOS 15?
Since it's nearly impossible to determine what is causing the software update not to install, we'll give you a list of all the most common solutions, so you can try out each one to get your iPhone or iPad to work normally. Check out below what you should do after downloading the update, and trying to update your device.
You might also like: How to Fix: iPhone Keeps Hanging Up Calls.
Method 1: Delete the iOS 15 update, and download it again
The first thing you should try is deleting the iOS 15 update you downloaded, and downloading it again after.
If the downloaded file is faulty for whatever reason, all sorts of issues might surface, including being unable to install iOS 15.
Follow these steps:
Open the 'Settings' app on your iPhone/iPad.
In the 'Settings' app, open 'General' followed by 'iPhone Storage'.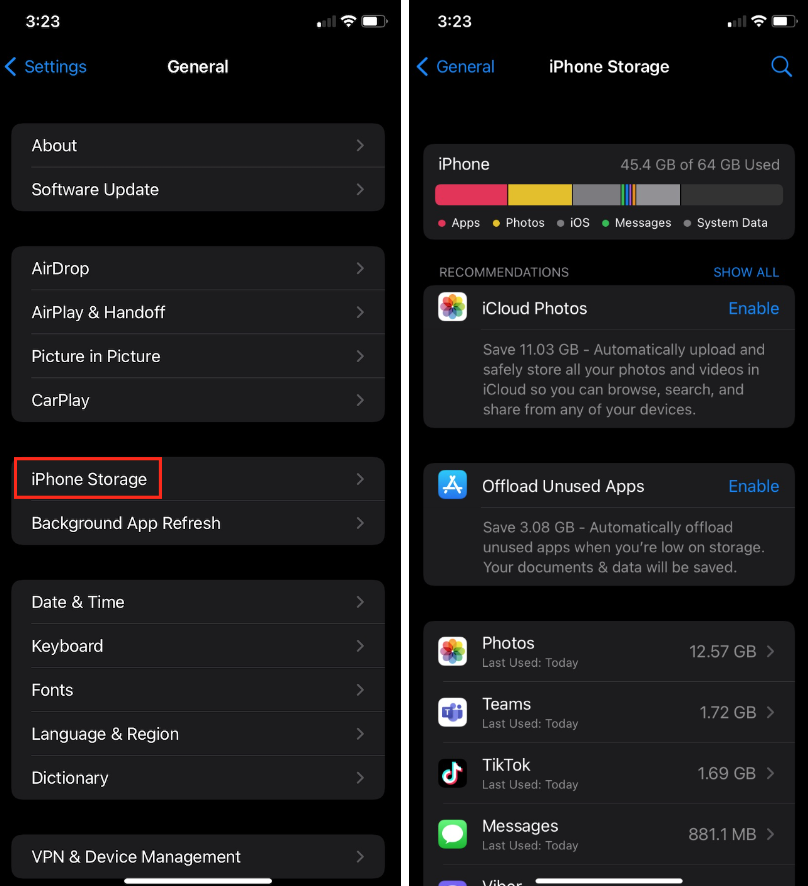 Search for the iOS 15 update that you downloaded in the list, and tap on 'Delete Update'.
Perform a force restart - Press the Volume Up button once, press the Volume Down button once, and press and hold the power button until the Apple logo shows up.
Next, open 'Settings' > 'General' > check for updates, and download the iOS 15 update once again. After it finishes downloading, install the update.
👉 Also read: How to Create a Custom Focus Mode in iOS 15
Method 2: Make sure you have enough storage on your iPhone/iPad
The iOS 15 update is one of the major ones, and its data is over 5GB, for some iPhones/iPads it might be 6GB.
Hence, double-check whether you have enough storage, and if not, delete some videos, photos, and apps you're not using on a daily basis to free up space.
Follow these steps to check your storage capacity:
Open the 'Settings' app, and tap on 'General'.
Under 'General', tap on 'About'.
On the following screen, scroll down until you see the details of your storage capacity. If you're running on under 6 GB of memory storage, make sure to free up some space before trying to install the iOS 15 update again.
Method 3: Reset Networking Settings
If there's something faulty in your Network Settings on your iPhone/iPad, issues such as the 'An Error Occurred Installing iOS 15' might happen.
Resetting your network settings should help resolve the problem, and ultimately allow you to update your iPhone with no issues.
Open the 'Settings' app on your iPhone, and tap on 'General'.
Scroll to the bottom of the page, and tap on 'Transfer or Reset iPhone'.
On the following page, tap on 'Reset', and tap on 'Reset Network Settings'.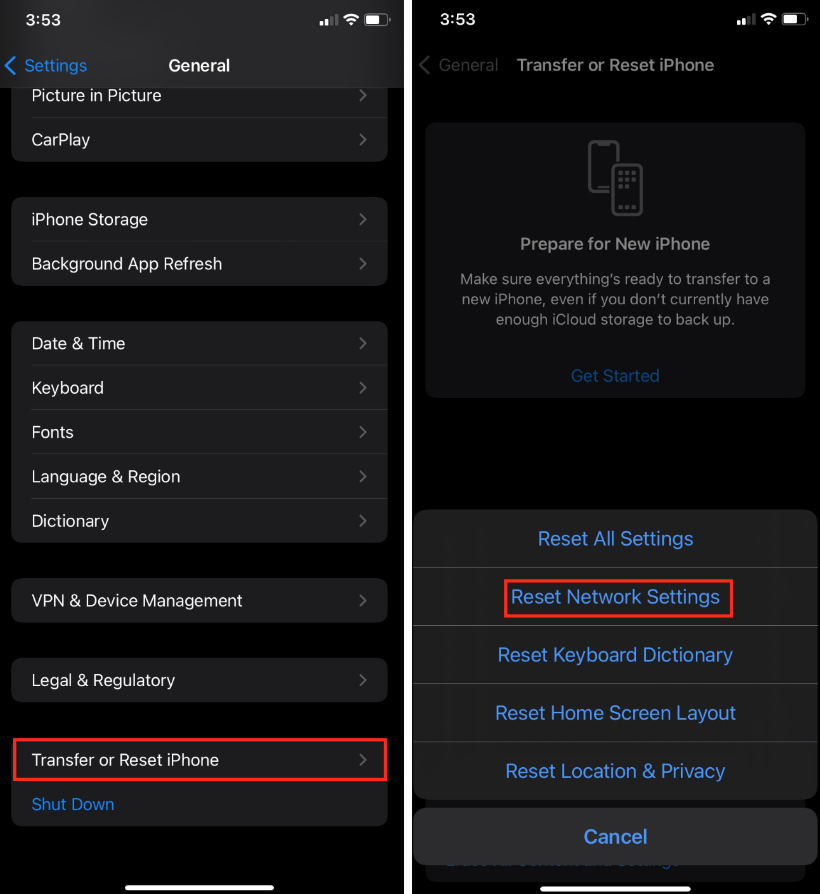 Method 4: Check whether your iPhone/iPad is compatible with the iOS 15 software update
Depending on which iPhone you're using at the moment, you need to double-check and make sure your model is compatible with the iOS 15 update. The iPhone models listed below are all the models that are compatible with this update.
iPhone 6s
iPhone 6s Plus
iPhone SE
iPod Touch (seventh-generation)
iPhone 7
iPhone 7 Plus
iPhone 8
iPhone 8 Plus
iPhone X
iPhone XR
iPhone Xs
iPhone Xs Max
iPhone 11
iPhone 11 Pro
iPhone 11 Pro Max
iPhone SE (2020)
iPhone 12 mini
iPhone 12
iPhone 12 Pro
iPhone 12 Pro Max
Method 5: Using a strong Wi-Fi connection
As we mentioned, the iOS 15 is a really big update, and for some models, it might be up to 6 GB big.
Hence, a strong, reliable Wi-Fi connection is an absolute must, in order for the update download and installation to go smoothly and flawlessly. Connect your iPhone to a stable Wi-Fi network.
Additionally, make sure your iPhone is charged, or at least plugged into a charger since having your iPhone shut down in the middle of the installation might cause massive issues with the software afterward.
Wrapping up
Downloading and installing new software releases is always fun, but the enjoyment will surely be stopped once your iPhone starts prompting you with error messages. In this article, we listed five possible solutions to this problem.
If you liked this article, check out How to Set Up iPhone with iOS Setup Assistant and What Does Share Focus Status Mean and How to Use It - iOS.